Angkor 3D: The Lost Empire of Cambodia
More Images: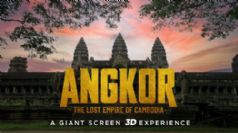 OPENS FEB. 16,2022 - Experience the grandeur of Angkor in this groundbreaking movie.
At the height of its power between the 9th and 15th centuries, Angkor was a resplendent city, considered the most extensive urban complex of the pre-industrial world.
But by the late 16th century, this capital of the Khmer empire was being overrun by the surrounding forests.
The people of Angkor left not a single word explaining why their kingdom was abandoned. Come along this giant screen adventure to unveil the mysteries behind this lost jewel of Cambodia!
[More Details +]
Images & contents may be subject to copyright • Report this image • Credit: California Science Center
More Like This