THE GODDARD SCHOOL OF CHINO HILLS

More than a warm and nurturing place. It's more than a great education for your child. It's peace of mind
More Images: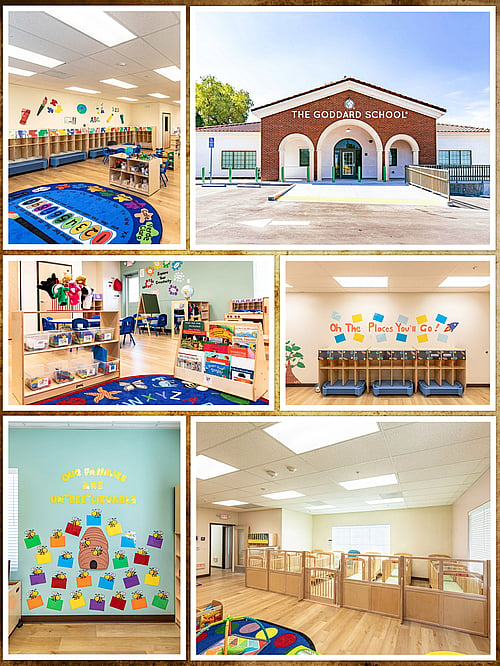 Welcome to The Goddard School of Chino Hills, where every day is filled with fun learning experiences! Each day, caring and attentive teachers provide your child with countless opportunities to grow academically, socially, emotionally and physically in a safe and loving environment.
Health & Safety
Health and safety are The Goddard School's top priorities. We are committed to ensuring that your child thrives in a warm, safe and secure environment
Safety & Security
To ensure your child is healthy and safe, our safety and security protocols are strictly enforced. These include thorough sanitation, safe sleep procedures, and a secure check-in and check-out environment. Your child's well-being is our top priority.
Our School's health and safety protocols include:
Iris scanner
Parking lot bollards fro protection
Food & Nutrition
Caring for your child includes ensuring that they're fueled up and ready to learn and play! For infants, our faculty and staff will closely follow your specific feeding instructions.
Learn & Grow With Us
Your child's social and emotional development will flourish in Goddard's warm and nurturing environment. We promise that your child will learn in a fun, safe and caring space where they have the freedom to discover their world as they build the foundation for the person they will become
Child Development
In The Goddard School®'s unique and flexible learning environment, child development is about more than just reaching milestones. It's about turning everyday encounters into teachable moments, allowing your child's interests to influence their learning experiences by balancing academic, mental, physical and social-emotional growth. But most of all, it's about igniting your little one's curiosity and instilling a lifelong love of learning.
Creating Fun Learning Experiences
When it comes to learning, one size rarely fits all. Our F.L.EX. Framework (Fun Learning Experience) gives your child the freedom to learn beyond a traditional lesson plan, as teachers incorporate organic, real-life experiences that help little ones navigate valuable teachable moments. Whether it's learning about precipitation on a rainy day or counting the toes on a T-Rex with a child who loves dinosaurs, F.L.EX. gives your little one the chance to discover the world from the safety and comfort of their classroom
Let's Stay in Touch!
16258 Pomona Rincon Road, Chino Hills, California 91709

School Phone Number:909-308-5800

School Hours:7:00 am - 6:00 pm
[More Details +]
Images & contents may be subject to copyright • Report this image • Credit: The Goddard School of Chino Hills
More Like This